10 Value-Added Home Features Provided by Local Contractors in Memphis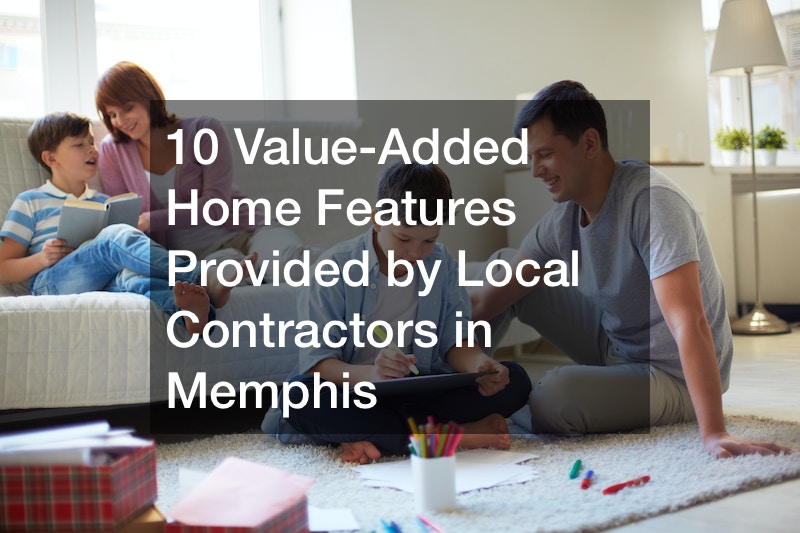 When you live in Memphis, you may be wondering how to update your home to add value. First, it would be best if you looked around your local area to find reputable contractors from local small businesses to provide assistance. This guide provides ten features to consider to add value to your home.
1. In-Ground Swimming Pools
Many homeowners dream of having a pool in their backyard. It is high on the list of value-added home features. Spending time in water can reduce stress, provide an opportunity for physical activity, and improve overall wellness. It can also provide a location for entertaining and spending time with those you love.
Concrete pools tend to be expensive. The cost of installation, maintenance, and repairs adds up. Despite these additional costs, adding a pool can increase the value of your home. There are items that determine how much a pool can increase the resale value of your home. If you plan to add a pool, consider these factors.
You want your pool to be well-maintained. This means it needs to be cleaned regularly. In addition to maintaining the pool itself, you should also maintain the area and landscaping around the pool. The more inviting the area means, the more value it provides. Also, if your pool has unique features, it will be more enticing to potential buyers. Think of features like a waterfall, saltwater, or steps that allow you to walk into the pool.
2. Home EV Charging Stations
Electric vehicles (EVs) have grown in popularity among drivers. This is why adding a home Tesla EV charger is one of the top value-added home features. It's possible there is a future where EVs are the main type of transportation. If that happens, there will need to be major changes to the infrastructure that's used for charging these vehicles. It could also mean that it could be hard to sell a house without a charging station in the future. In general, the average buyer's age will decrease, and that age group will want charging stations.
In addition, having a charging station at your home is more convenient. It allows you to charge your vehicle at home and overnight. You plug in your car at night just like you plug in your cell phone. This is beneficial because you don't need your car while you're sleeping. It will be ready to go when you are. You won't have to travel to a public charger and wait in line. Then, you'll have to wait while your vehicle charges.
Driving a gas powered vehicle is more expensive than an electric vehicle. However, it does cost money to charge your vehicle. This makes having a charging station at your home more affordable. In addition, public charging stations charge more than it would cost to charge your vehicle at home.
3. Bathroom Remodels
Bathroom remodels are a popular upgrade for homes. In general, a bathroom renovation can increase the value of your home. However, perhaps you don't want to do a full renovation. You may decide to make small changes to your bathroom instead. There are a number of updates that become value-added home features. One of those is a frameless shower.
Frameless shower doors are safe and versatile options. They can transform the space from dull to dazzling. They have a minimalistic design and an elegant but sleek look. Frameless glass shower doors have panels of sturdy tempered glass. They don't require a metal frame to support them to function. Many homeowners prefer frameless shower doors because they look beautiful. These doors add to the value of your home. Think about how different your bathroom would look if you switched out your shower curtain to a glass door.
A frameless shower door gives you more options for customization. You have the flexibility to pick the size, style, and glass type that you like. You can even select accessories for your doors. When you don't have a bulky frame around your shower door, it gives the appearance that you have more open space. There is less risk of corrosion and mold. Framed shower doors allow water to accumulate under the seal. This can cause mold or mildew. Without metal frames, there is no risk of corrosion. These doors are much easier to maintain. They also last longer.
4. Residential Fences
A quality fence is another one of the top value-added home features. It immediately adds curb appeal to your home. If you were to sell your house, a fence would attract more potential buyers. Fence builders will tell you that a fence defines your property lines. It helps your house look complete and better maintained.
A fence provides privacy and security. It keeps people you don't know out of your yard. It also keeps pets and children on your property. In addition, a fence can block the view of your house and yard from those passing by. It also helps reduce the sounds from the neighborhood and traffic driving by.
You can choose any fence style you want to match your home and personal preference. You may want a wrought iron fence if you have a modern home. If you have a more traditional home, a white picket fence may be more appealing to you.
No matter which style of fence you choose, it will add value to your home. In addition, you can work a fence into your existing landscaping to make it look even better.
5. Eco-Friendly Roofing
The roof is one of the most important aspects of your home. Having it replaced or repaired puts it high on the list of value-added home features. When you want a new roof, contact a local roofing company. They help you determine which roofing materials are best for your home. You may have a number of choices to consider.
A white roof stays cool because of its light or white color. This is considered a cool roof. It helps keep the inside of the house cool because it can reflect most of the sun's rays. A cool roof reduces your air conditioning usage, especially when you're not at home. This causes a significant reduction in summer energy bills.
A metal roof is considered eco-friendly because it's 100% recyclable, depending on the material. It's also durable and can reflect light. You should consider a roof that is a lighter color. A metal roof can last as long as 50 years. This type of roof is fire-resistant and allows you to harvest rainwater for use in the garden.
A green roof has flowers, shrubs, and trees planted on it. It helps to keep the air clean and even out the heat effect. This type of roof is helpful in cities. It reduces the amount of rainwater runoff and offers your home additional cooling and insulation.
6. Beautiful Lawns
Creating a beautiful lawn and landscape is another one of the top value-added home features. A healthy, green, and lush lawn does more than just make your property look nice; it also increases the value of your home. Proper fertilization and maintenance are one of the most cost-effective ways to increase the value of your home.
Fertilization is key to keeping your lawn healthy and green. You want to fertilize with nutrient-rich materials. Fertilizer provides your lawn with the nitrogen it needs. Grass should get water three times a week and be mowed properly. There are certain conditions in which you should cut your grass to keep it healthy.
Hydroseeding services are an efficient and inexpensive way to seed a lawn. It's a process where a mixture of slurry is combined in a tank. The slurry is seed, mulch, fertilizer, and water. The mixture is applied to your grass with high pressure. The tank ensures the slurry stays evenly mixed. This process prevents erosion and reduces dust pollution. It also helps prevent weeds from growing.
7. Under Deck Drainage Solutions
If you have a second-story deck, one of the value-added home features you should consider is under deck drainage systems. It helps create an outdoor space under the deck. An under-deck drainage system drains water away from your deck. It may use a network of troughs and downspouts to move water to a gutter system. This takes water away from the deck.
This keeps the area under the deck dry and free from the elements. This could increase the outdoor living space. After the system is in place, you can add lighting, ceiling fans, and entertainment centers. This also creates a space you can enjoy outside, even in the rain. Even when it rains, you will remain dry in this additional space. While not all drainage systems are the same, some can provide 100% protection to protect the beams and joists from water. This prevents rot and wood decay.
8. Updated Countertops
When you are considering updates to your kitchen, one of the value-added home features is quartz countertops. It's durable, easy to maintain, and comes in a wide variety of colors. Quartz is not as expensive as other countertop options, which means it has a higher return on your investment. It's important to care for and maintain a quartz countertop.
Quartz holds up well to wear and tear. You may not have to replace it again as long as you own your house. It will look new after years of use. However, it's important to note that you can't place hot items on quartz. You must wipe up spills right away, or they could stain. It's recommended that you use a cutting board. You don't want to cut directly on the quartz. You can easily clean quartz with mild soapy water. As long as you keep these simple items in mind, quartz is easy to clean and maintain.
9. Luxury Hardscapes
While you may know that hardscaping looks nice, you may not realize it's one of the top value-added home features. It is an outdoor landscaping feature that is hard and moveable. It includes different elements of your yard. You may have pavers, retaining walls, and an outdoor kitchen. It can be created with just about any type of material. Items like a deck or patio improve the beauty of your year, increases the property value, and add to the living space.
You can add a brick paver patio that turns into a dining space with a table and chairs. This becomes an extension of your living room and kitchen. If you add comfortable furniture and a fire pit, you have a nice place to relax in your yard. You don't want to overlook outdoor lighting. When you add lighting, it provides mood. It also increases the amount of time you can spend outside. You won't have to go in when it gets dark.
10. Native Landscapes
Landscaping is one of the top value-added home features to add value. A beautiful, mature tree not only adds value to your home but also adds beauty and aesthetics. A tree increases privacy and shade and generally improves a home's curb appeal. Certified arborists can help determine which trees will add the most value to your home.
Homes with trees are in high demand. Houses that are mature, provide full shade, and have flowers or fruit are highly valued. Those that are focused on being environmentally friendly enjoy trees because they improve air quality. They also reduce water runoff and trap carbon dioxide.
If you live in a warmer climate, trees help reduce the energy output of your home. This creates savings for your home because it can reduce energy costs. When thinking about landscaping, you want to think about biodiversity. Adding native plants with non-invasive plants that aren't native can help to improve biodiversity.
There are many ways to add value to your home. This list of ten items to consider for adding value is just a start. There are many more ways that aren't on this list. You should always consider the return on your investment and your budget when adding features to your home.