What Are the Best Types of Small Businesses to Start Up in Memphis?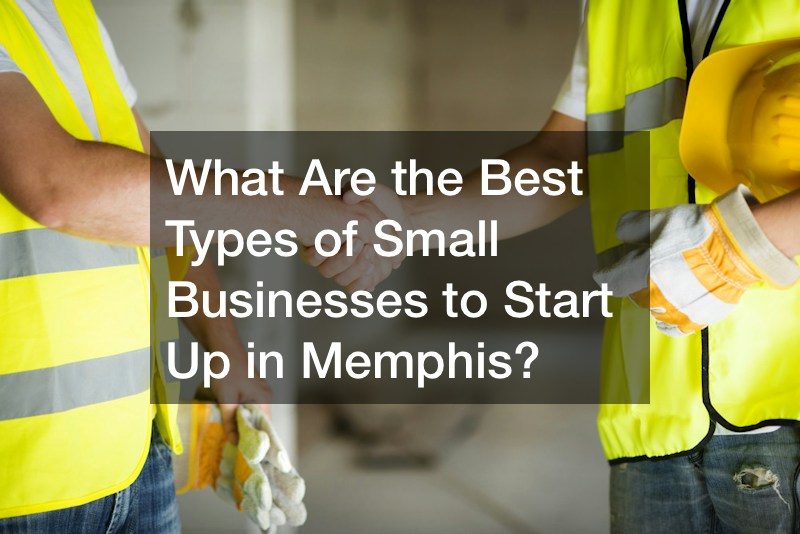 Memphis is a city known for its distinctive barbecue and musical history. It's home to many famous musicians, such as B.B. King, Elvis Presley, Muddy Waters and so many more. If you're a proud resident of Memphis, you may be looking for ways to tap into the area's clientele by starting your own business. Here are some tips on the right starting steps to create a business in the Memphis area.
Roofing
Every home needs a roof and a Memphis homeowner needs regular roofing services just as much as anyone else in another part of the country. By starting a local roofing business, you'll be providing an essential service that can also be very lucrative for you, as long as you gain a good reputation for being reliable. The main starting steps in opening such a business involve training as a roofing contractor. Some states don't require certification. However, getting the right certification shows that you're serious about your profession. Getting proper certification and training as a roofer shows you understand the safety techniques of working with roofing materials. Plus, you'll be taken much more seriously as a roofer.
Once you decide to open a roofing business, there are many things you can specialize in. You could focus your business on roofing repairs, and ongoing maintenance. According to Bob Vila, homeowners should have their roofs inspected at least once a year. In addition to providing inspections, you could do roof installation for residential or commercial properties. Roofing installations are where you could make a lot of money as you can show your knack for working with different types of materials.
Roofing materials consist of metal, asphalt shingles, slate, ceramic tiles, wood, as well as TPO. The more certifications you get in working with the materials, the more options you'll have in getting clientele. Asphalt shingles are still the number one roofing material in America. After all, they're highly recyclable and come in a variety of colors and styles to suit any American homeowner's preferred aesthetic. However, if you want to specialize in a material that can last for 50 to 70 years, you should learn how to install metal and slate roofing. For people who want a flare of the Mediterranean in Memphis, ceramic tile roofing can not only create that aesthetic but also provide a roof that can last up to 100 years.
It would be hard to run a roofing business completely on your own. So you're starting steps should also include hiring other roofers to work with you. You should also have someone to help you with administrative tasks such as billing and marketing. You want your roofing jobs to go off without a hitch, and to do so, you'll need the best materials available. Try to build relationships with potential vendors in the Memphis area so you can get as many locally sourced items as possible.
HVAC
A Memphis home goes through different seasons. Local in the Memphis, TN area, we'll deal with all Four Seasons. They'll need to have a home that can be properly cooled or heated throughout the year. So if you're looking to get into HVAC maintenance work, you'll have a viable profession where you'll have access to many clientele. One of the starting steps to becoming an HVAC professional is getting the necessary training in the field. If you've already gone to trade school and understand how to work with these different systems, then you're on the right track on your starting steps for this industry.
People need local air conditioner repairs to ensure their home is not only cool but can also circulate clean and filtered air as needed. There are different types of HVAC units you can install. You could specialize in mini-ductless units which come in handy for Memphis homeowners who live in multiple-story homes or have several rooms where people want to control their level of heating and cooling. Stay up to date when it comes to installing more energy-efficient units, particularly those from the Energy Star brand.
Remember, HVAC installation isn't just for homes. You can also supply this type of service for Memphis businesses. After all, coffee shops, restaurants, hotels, and office buildings need to ensure that their employees have proper heating and cooling throughout the year. If you build up enough clientele and employees, you'll have the bandwidth to supply this type of service for both commercial and residential purposes.
Plumbing
Can you imagine living in a home or operating a viable business that doesn't have reliable plumbing? Of course not. After all, the expertise of a local plumber can ensure that toilets can flush and sinks provide hot or cold water for washing and drinking. Solid plumber maintenance can also prevent leaks from occurring in homes that can cause financially devastating water damage. In other words, becoming a local plumber can be one of the many starting steps in building a lucrative foundation for you and your family. In addition, you'll gain a skill that you could use at home without hiring another professional to do it.
As a plumber, you could specialize in installing new plumbing. You can also handle water heater installation in homes and businesses. After all, hot water is necessary for proper sanitation and bathing. In addition to traditional water heaters, learn how to install tankless water heaters, which are becoming more popular due to their energy efficiency.
Thanks to washing and cooking, it's easy for people's drains and plumbing to become clogged. You can offer your drain cleaning and repair services, so people won't be tempted to use those horrible over-the-counter chemical solutions that can do more harm than good. Many plumbers also work on sewer lines and do additional work with septic tanks.
According to Bob Vila, septic pumping should be done at least once every three to five years. Of course, some Memphis homeowners may need this pumping sooner, depending on the size of their house and overall usage of water. Help Memphis homeowners keep their septic tanks as functional and sanitary as possible by advising them on the right things to use in their plumbing. You can help install new septic tanks as well as provide ongoing maintenance services for them.
Landscaping
Do you enjoy working outside? Who can blame you when you live in a beautiful place like Memphis? If so, one of the starting steps in building a career where you get to constantly enjoy the outdoors of Memphis is becoming a landscaper. Life in the landscaping industry means enjoying the beauty of nature from grass to flowers to trees. Many local landscaping contractors provide the basics, such as lawn mowing and fertilization. Thanks to lawn mowing services, you can help Memphis homeowners keep their grass properly cut and ensure they don't violate any Homeowner Association curb appeal codes.
People often don't know how to properly fertilize their lawns, especially when they have a mix of various types of vegetation. As a landscaper, you'll supply the ideal fertilizer to maintain various trees, grass, or gardens. Plus, you can ensure destructive weeds don't invade anyone's garden. After all, weeds suck all the nutrients out of the soil and can make it hard for other plants to take root and thrive.
Professional backyard landscapers can also help homeowners develop their green thumbs. There may be people who want to have a garden but don't know where to start. You can plant beautiful flower gardens or till the soil so that they can plant a vegetable garden and grow their fruit and vegetables. When it comes to backyard landscaping, you're not just putting vegetation in haphazard areas. There are many design skills involved and the more experienced you get in this field, the more your work can be in demand. Build a portfolio of beautiful landscape designs that you can create with your crew. Work with many different materials, ranging from gravel to landscaping boulders. In addition to your landscaping, you can also cross over into hardscaping to make someone's front or backyard look more beautiful and otherworldly.
While many landscapers do general work with trees, particularly when it comes to fertilization or planting new ones, you can take things a step further by offering more specific tree services. Some of the starting steps in any viable tree service business involve having trained arborists who understand how to identify diseases in trees. Trees may be strong and durable, but they're just as capable of getting sick as any other life form. That's why tree trimming services are essential to ensure diseased branches are removed before they spread to the healthy parts of the tree. This type of work can not only keep a tree healthy, it also prevents nearby trees from illness. As a result, you can expand the life expectancy of a tree, which helps homeowners and the environment.
Deck Building
If working with vegetation isn't your thing, you may want to venture into local hardscaping services. One of the most in-demand hardscaping projects involves building decks and patios. Memphis is a beautiful place that likely has many views of trees and Tennessee mountains. It shouldn't come as a shock if you have many homeowners in this area who may want to enjoy the outdoor living space from the comfort of their patio or deck. The request for additional outdoor living services has continued to increase, particularly after the pandemic. People understand the value of having access to nature and breathing clean air. According to Healthline, being out in nature can easily provide a sense of wildness and relaxation, which is great for anyone's mental health.
As a deck or patio builder, you can specialize in constructing them from cement, wood, stone, brick, or all of the above. The more materials you use, the more in demand your outdoor living services can be. According to Climate to Travel, Memphis is a humid, subtropical climate that has four seasons. It has many hot and humid summers but the city can also get over 54 inches of rain each year. With an outdoor living space in Memphis, a homeowner may want services that can provide adequate shading or enclosure from precipitation. So, you can ensure decks are appropriate to use year-round throughout different seasons. Deck construction can include a removable or static enclosure. You can also install retractable or static awnings.
If you want your deck or patio business to become in demand, you should also offer additional features such as outdoor kitchens. Outdoor kitchens come in handy for any homeowner who does a lot of cooking or entertaining. Thanks to an outdoor kitchen cooking facility, homeowners can enjoy smelly foods like fish or smoky food like the famous Memphis BBQ without smoking up their home interior. It also provides more space for people to entertain, and it makes it easier for everyone to cook together.
You can also add fire pit installation to your deck services. Fire pits are also more popular because they provide additional ambiance and add to outdoor living space design. People can get cozy around an outdoor fire and enjoy a makeshift outdoor camping at home. These features also increase home value and can make entertaining more fun. For people who want to add a focal point to their outdoor space, a fire pit is a great way to do so.
Now you have a clear idea of some of the starting steps to have in mind when becoming an independent business owner in the musical town of Memphis. Memphis is a historical and vibrant town that provides many resources for anyone who wants to start a small business. If you enjoy working outside, you can provide deck-building or landscaping services for people. However, if you prefer to work inside, developing an HVAC installation business is a great way to ensure people have heating and cooling throughout the year. Remember, starting a small business doesn't happen overnight, but you can grow quickly with due diligence and proper planning. Take advantage of the starting steps in this article, and you could end up being a viable part of the Memphis local economy in no time.