10 Starting Steps for Contractors Who Want to Start Their Own Small Businesses in Memphis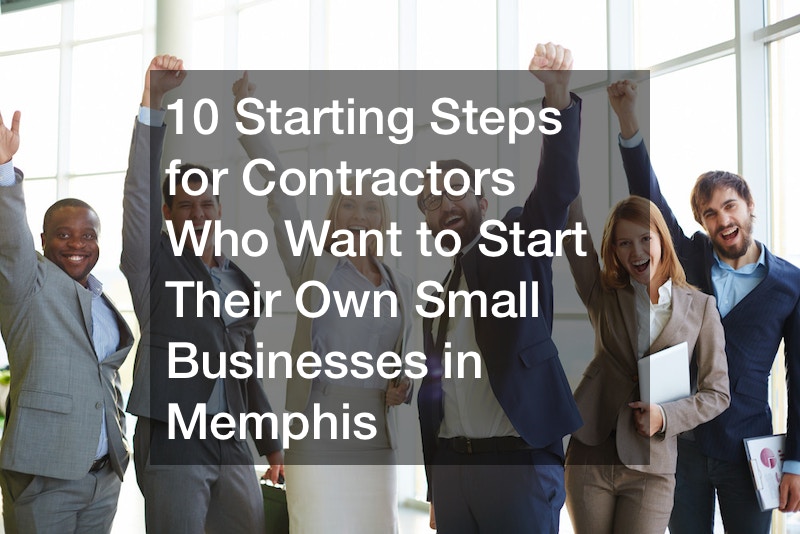 Future contractors in Memphis have a friend in the local government of Shelby County, who created a website that leads them through the starting steps of forming a business. The state's Epicenter website also helps entrepreneurs prepare for their business launch. This article examines the 10 vital steps to founding a successful contracting business in Memphis.
1. Identify Your Niche and Target Market
The first of the starting steps centers around deciding on which construction niche you'll choose. Do you want to found a business as a chimney contractor, a master carpenter, or a mason? Perhaps excavation interests you or heating, air conditioning, and ventilation (HVAC). Choosing your specialty starts you on your way since every construction trade requires training and an apprenticeship.
The huge construction industry offers many specialties. Explore the Build Your Future website, a free service for those interested in construction careers. Take its quiz to identify which jobs dovetail best with your interests and experiences.
2. Create a Solid Business Plan
Once you've nailed down your future specialty, whether as a concrete contractor or an architect, you will need to develop a business plan. If you already finished your education and apprenticeship, your business plan will only contain essentials like competition research, a marketing plan, a SWOT analysis, and financial information like the budget and financing data. The City of Memphis offers a quick start guide on starting a business that includes business plan development guidance.
If you haven't yet attended school for your specialty, that's where your business plan starts. An essential among the starting steps of starting a Memphis contractor firm, you must meet the education requirements before obtaining licensure. For example, HVAC technicians undergo licensing, as do carpenters, plumbers, and other well-known construction positions.
3. Legal Considerations and Business Structure
By legal considerations, we refer to obtaining business licenses, specialty licensing, and setting up the multitude of necessary accounts with various government organizations. Whether you become a radon mitigation contractor or an electrician, you'll need a Memphis business license to legally operate your business. The city provides special recognition for small businesses and those owned by minorities or women, but you must register for this recognition.
Other legal considerations include registering with the state and the federal government for a tax identification number. Each business also pays county and city taxes. You'll need the SITUS code for Shelby County, 7900, and Memphis's business tax code, 7901.
If you plan to hire workers, you'll also need to register with the workers' compensation board and obtain workers comp insurance. Hiring employees also means purchasing health insurance for them, plus unemployment and disability insurance. While you shop for insurance, apply for a business owner's policy (BOP), which includes the four types of insurance policies needed by businesses, covering their liability, business property, business interruptions, and perils that damage their place of business.
4. Secure Financing and Funding
As many local tile roofing contractor businesses as Memphis has, new ones open regularly. The construction industry's growth has ensured that those interested in the industry can find jobs readily. However, when you want to hang your own shingle and start a business, you need funding. Options abound for financing the startup costs of a business, but some of them, such as angel investors and venture capitalists, don't apply to this type of business.
That doesn't close a door on your business idea. It just means that you will need to use a more direct method, such as starting steps such as a business credit card or a small business loan. Check your local banks for information on business loans and the U. S. Small Business Administration website. You can also fund your future construction business by working two jobs – one to pay the bills and the other to fund a savings account.
Some individuals who want to open a business quickly take on a partner who has a similar or the same specialty. Each person contributes half of the start-up costs. Others approach family members for smaller partnership contributions or for a private loan.
5. Register Your Small Business
Contractors who want to bid on federal construction jobs must register with the government and with the independent organization Dunn and Bradstreet to obtain a DUNS number. This number identifies the business in the DUNS database. Each time the business, whether flooring contractors or masons, applies for a federal construction job, it uses its DUNS number to identify itself on the application. Obtaining the number costs nothing, but a business must be fully established before it can apply.
6. Build a Reliable Network and Partnerships
Building a reliable network refers to acquiring reliable vendors from which you purchase materials and equipment, one of the integral starting steps. Some businesses choose to vertically integrate, a phrase meaning they produce all of their raw materials and the final product, then install it. While this isn't common with commercial waterproofing services, the solar panel industry, and the roofing materials business frequently use a vertically integrated supply chain to reduce bottlenecks in raw materials acquisition.
In some industries, businesses that need specially trained installers for their products, such as those manufacturing solar panel systems, roofing materials, siding, roof guttering systems, etc. These manufacturers create internal training courses for contractors who earned their apprentice level. For example, TAMKO and GAF, two roofing materials companies offer specialty certifications to roofing professionals who complete their installation course. Earning this certificate gets the roofer listed as a certified installer on the manufacturer's website, which helps homeowners or architects find them for work projects.
Although some construction professionals remain independent, completing such a certificate program can lead to additional work. For a new business, earning one or more of these certificates can lead to those crucial first jobs. Some contractors earn certs from three or more manufacturers, significantly bettering their chances of getting hired and obtaining vital free marketing through the materials firm.
7. Obtaining Necessary Licenses and Permits
We mentioned the initial licenses needed already, such as the city business license and state license. Once you've completed your professional training, you have other licenses to earn. Each profession has its own type of license, for instance, a demolition expert founding a demolition company requires a different license than a plumber, who obtains a different license than an electrician. Some areas require union registration, too.
Each profession has a governing body or organization that oversees it. The state, though, administers some of the licensing. If you choose to open a business as a plumber, electrician, HVAC, general contractor, or home improvement professional, you apply for licensing through the Tennessee Department of Commerce and Insurance. Without completing this item in the starting steps of founding a business, you can't legally operate.
8. Learn About Marketing Strategies for Contractors
Hiring someone to handle your marketing needs will prove much easier than trying to do it yourself. No plumbing contractor should have to learn advertising and marketing in order to operate their business. You don't have to hire an employee to do your marketing; instead, contract with a freelancer who specializes in the area. Skip Craigslist and try Upwork or Freelancer for verified public relations professionals.
You should know the essentials, such as carrying business cards with you everywhere to hand out. Use a local printer or an online shop like Vistaprint to nab low prices on high-volume printing. Have a web developer create a website for the construction business with a blog. Your freelance marketer can help you post relevant blogs.
Advertise wherever people typically see business ads. In your area of the Memphis metro that might be billboards or it could be the local Little League team's jerseys and field. If people in your neighborhood or suburb read a weekly newspaper, advertise there. Register your website with each of the search engines instead of waiting for them to spider your website.
Take advantage of free marketing options like Google My Business (GMB), Bing Business, and Yahoo Business. These registries offer important views to consumers and a way for businesses to update people on their latest projects. GMB works in conjunction with Google Maps, which supplies many GPS systems with mapping data. Registering with GMB ensures your business location appears in Maps, which provides an added manner of advertising for free.
All of the major search engines switched to prioritizing local search results in their mobile search results pages. You leverage this free advertising by registering for GMB, Bing, and Yahoo, and using local SEO on your website. Proper SEO formatting by your web developer and marketing professional on your website and blog results in your business appearing higher in local results.
Here's what that means to you. If someone whips out their smartphone and searches for a Memphis plumber, the search engine quickly reads their current location and shows them the three nearest relevant businesses, prioritizing those with a GMB profile. That's what they mean by local search and why so many business websites tout focusing on local SEO.
9. Manage Startup Costs and Budgeting
Writing your budget might rank in the top least favorite starting steps of founding a business. Most entrepreneurs would prefer to focus on talking about their business to potential partners or actually doing the work. You need to create an accurate budget and stick to it though because that ensures you pay your bills and keep the doors of your new venture open.
A hardscaping contractor creates a different budget than a painter. In school for your specialty, you probably had a class on business costs, budgeting, etc. Dig out that textbook or visit a website like the SBA that offers examples of a line item budget. Your business type determines your line items.
Ask the professional with whom you completed your apprenticeship for an example budget if they did not review this part of the business with you when you trained with them. They will typically share a generic template, but it will contain all of the line items needed. Rather than use their generic name for a line item, specify the names of your vendors or subcontractors.
Don't forget vendors related to your day-to-day operations, such as the office store from which you purchase your printer cartridges and paper. You would also include water delivery, coffee service, etc. If you hire a cleaning service to keep your office clean, that also gets a line in the budget. From cell phone service to office rent, your budget guides your business.
10. Overcome Common Challenges in Your Industry
Every industry undergoes challenges at some point. Some challenges seem more obvious than others. For example, during COVID-19 lockdowns, gas prices plummeted, and landscaping contractors could operate all of their equipment – lawnmowers, leaf blowers, and hedge trimmers – for less money. As the country lifted the sequestration requirements, gas prices shot up again, causing a challenge for landscapers.
Raw materials shortages, labor strikes, supply chain breakdowns, and other issues cause problems that require workarounds. For installers, a solution presents itself before the problem, since diversifying the materials installed ensures a steady stream of work for a sider, roofer, or gutters installer. Check the websites of a few roofers and note that many earn certs from GAF, Sherwin-Williams, and TAMKO. These roofers can count on a steady stream of clients even if the cost of steel and aluminum increases.
Offering coupons or specials can result in new clients when the building industry undergoes a slow period. Offer repairs and maintenance plans instead of just offering installations. All exterior portions of a house need all three. Roofers and foundation repair businesses should offer free inspections and work with a bevy of insurance companies to better their chances of landing frequent work.
Get Started Starting Your Memphis Construction Firm
Follow the 10 steps in this guide to speedily open your Memphis construction business. Start by acquiring the education needed and authoring your business plan. Use digital and print advertising and marketing methods to land clients. Also, earn certifications from materials manufacturers to better your chances of landing those first crucial jobs.