Tips for Owning a Family Dental Practice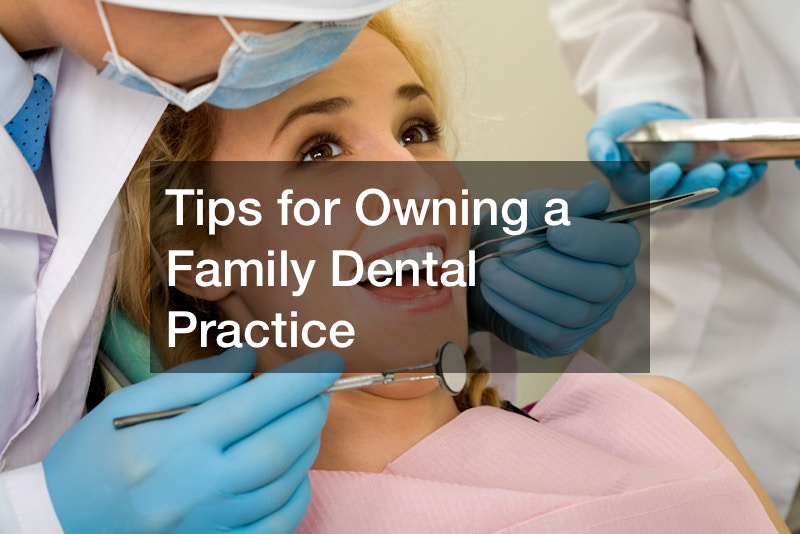 Now that you've graduated from dental school, it's time to take the leap and start practicing what you learned throughout the years. Truth is, it'll take time to adjust to the real dentistry world. Therefore, before setting up your own dental office, it's a good idea to polish your skills and gain experience through employment in the industry. Dentec says it takes five to 10 years to gain the much-needed confidence to establish your clinic. Once you're confident enough, you can use the following tips as a guide to help you set up a successful family dental practice.
1. Secure Capital
It's no secret that starting your own practice is expensive. You'll need to take your time and carefully draft a business plan. Whether you buy or build your family dental practice, you'll need to raise a large sum; according to Jayme Amos, you can expect to spend an average of between $550,000 to $750,000.
You may be wondering why the range is that wide. Well, factors such as location and the square feet of your space greatly impact the amount you require to start. Therefore, as much as you have a vision of how you want your practice to be, the latest technology, most futuristic décor, etc., it's important to get professional guidance on which of your visions are achievable with your budget.
You may not necessarily have over half a million dollars stashed somewhere, but this is no excuse for setting up a cheap clinic; remember, cheap can be expensive in the long run. Consider other alternative sources of capital such as money lending facilities or close family and friends. Having enough capital will help your practice live up to its full potential.
2. Choose the Right Location
Another key item in your business plan is the location you choose to set up your practice; it can encourage or discourage patients from visiting you. Before you settle for a specific area, it's important to consider vital factors. The first factor to consider is the target market.
Conduct research on the population where you want to operate and determine if it's ideal for your business. For example, if you choose to set up a family doctor practice, it may not be ideal to choose a location that is mostly populated by students, instead, source for a location that is mostly inhabited by families.
The second factor to consider is visibility and parking. Imagine spending all that money to set up your practice but no patients to treat; that would be a nightmare! At the end of the day, you want to get back the money you invested and at least earn a living.
So, pick a location your patients can easily locate and one that also encourages walk-ins. Equally important is a location that provides enough parking for your patients, estimate the number of patients you would typically expect in a day, and choose a location with enough packing. Clearly, the success of your practice will start with getting the right spot.
3. Be Unique
Now that you have successfully set up your practice, it's time to develop strategies to ensure your business survives and thrives. Dentistry is an industry with a lot of competition. According to Medinews, as of 2023, there are about 185897 dentist businesses in the US.
For your business to survive, you must differentiate yourself from the competition. You can achieve this uniqueness by providing an individualized experience for your patients. Going by the previous example where you chose to set up a family dental practice, ensure each family member gets a customized experience whenever they visit the office.
Extending your working hours is another way to make your business stand out. Imagine having a patient who's in a nine-to-five type of employment and can only get time to visit your practice after working hours. If your business only operates within a specific period, such a patient will have to source for a different dentist, a loss to your practice.
4. Diversify Your Services
As with any other business, you want to ensure your practice grows and expands; this means getting more patients to visit your practice. One sure way of increasing the number of patients in your practice is by offering various family dental care services. Other than treating general dental issues such as tooth decay which often require a root canal and crown dental care, you can offer cosmetic dental services as well.
If you don't have expertise in the cosmetic field, you can outsource cosmetic dentists willing to work in your practice full-time. Ensure you get one with a good reputation and who knows his craft. Should any of your patients require a cosmetic procedure such as teeth whitening, you can recommend them to the best cosmetic dentist for teeth whitening within your practice.
One of the biggest benefits of diversifying your services is increased revenue generated. It's important to note that spending money is the only way to attract more. For example, if you don't have enough space, your family dental practice would have to move to a bigger location to accommodate the cosmetic department.
You'll incur the cost of a new lease on a new premise. However, you'll recoup that cost over time as the cosmetic department picks up.
5. Flexible Financial Options
To have a successful family dental practice, you must offer your patients various payment options. Dental care is an important aspect of health. However, some procedures are expensive, and some patients are forced to take a step back. This is especially when a dentists office doesn't offer additional payment options other than insurance.
Dental medical insurance will only cover a patient up to a certain point. So if a procedure costs more than the insurance cover, patients must make out-of-pocket payments to get treated. Unfortunately, those without the financial capacity to foot the difference often opt out of getting treatment, causing reduced patients and consequent revenue to the clinic.
A family dental practice that wishes to maximize its revenue will provide easy payment options in the patients' pockets. Some of these payment options may include; customized payment plans where patients pay in installments, third-party loans, debit or credit cards, and personal checks. These payment options ensure patients get dental health care regardless of their financial situation. Besides increasing revenue, your practice will enjoy a boost in patient retention rates, so you can focus more on patients' overall dental health.
6. Manage Your Reputation
According to research carried out by Harvard Business School, businesses with higher ratings often generate more revenue. Therefore, if you want to increase your patients and consequent earnings, you shouldn't underestimate the power of word of mouth. A recommendation from a trusted colleague, the internet, a family member, or a friend could be the only reason your practice has the current patient base. So, to encourage your patients to spread the word about your practice, you need to offer top-notch services and create a comfortable and safe environment.
Managing a family dental practice can be very demanding. Between carrying out your daily tasks, managing patients' files, and ensuring your patients are happy, you may miss that faulty bulb or a leaky tap. That's why hiring a property manager is a good idea. They'll ensure the building is clean, comfortable, and safe.
It's the manager's responsibility to ensure all necessary repairs, such as HVAC repair services, are done, electricians are contracted to fix the faulty bulb, and a flooring contractor is hired to fix any floor issues that may result in injuries. The last thing your practice needs as its building its reputation is a lawsuit.
7. Hire The Right Staff
The staff you hire plays a vital role in your dental practice; they're the frontline ambassadors of your business as they interact with patients daily. Therefore, it's important to ensure you hire competent staff who will help take your business to the next level.
Hiring dental staff is easier said than done. There's no guarantee that the staff you hire will be the best fit for the job. However, there are tips you can employ to help you hire qualified employees who will help grow your practice.
The first tip is, to take your time to hire. After the final step in setting up your family dental practice, you must be eager to start operating the business. You can't do it alone; you'll need to hire a team to help you with the daily task. As much as you can't wait to have your practice up and running, don't fill positions out of desperation.
Having unqualified staff is worse than not having staff at all, so take your time. Conduct a working interview where the candidate gets to work in the position they're applying for and assess their qualifications.
Another great tip is customizing the job description to your specific needs. Regardless of the position you want to fill, ensure the job description is as specific as possible. For example, if you want to hire a receptionist who will be required to double up as a cleaner since the practice is just starting out, ensure all that information is included in the job description. This way, you get applications from candidates who are qualified for the job since they know what is expected of them if they're hired.
8. Promote and Market Your Practice
Marketing and promoting your dental practice is arguably as important as your services. It is one of the ways of increasing patient traffic in and out of your family dental practice. In today's evolving world of technology, there are numerous ways to market your practice. Even better, you don't necessarily need to hire a permanent employee if the budget doesn't allow it. Instead, you can outsource a marketing agent who comes in whenever you have campaigns running and help you with your social media platforms.
If the budget is flexible enough, in addition to social media and other free platforms, you can also use traditional marketing methods such as print ads in the dailies, TV, or radio. Whatever marketing channel you use, ensure everyone is talking about you! Marketing will increase your visibility on search engines, strengthening your ties with your current patient base and helping attract new patients to your practice.
9. Continuous Development
Any family dental practice that wishes to match up to its competition has to invest in continuous development in technology and its staff. Your staff is the first contact point whenever a patient enters your practice. Their professionalism, communication skills, and attitude can influence a patient's decision to return for a service.
It's your responsibility as a practice owner to ensure your staff is equipped with all the necessary skills to make the most out of any interaction, phone or face-to-face. In addition, it's important to have ongoing training for your staff. This'll ensure they're up to par with all emerging techniques within the industry.< /p>
The equipment you purchase for your practice will likely be overtaken by new and improved equipment within a few years. That's why you should make an effort to ensure you have updated dental and office technology; it will be beneficial not only to the practice but to patients as well. Improved technology will increase efficiency because the time it takes to serve one patient will reduce significantly. This means you'll be able to see more patients and consequently generate more revenue.
10. Improve Your Scheduling System
The dental scheduling system continues to evolve; an effective system for your family dental practice will let you do more than book appointments. It should allow you to monitor the flow of patients in and out of your practice, help reduce stress for both staff and patients and ultimately, help you give better customer service to your patients. As mentioned earlier, some patients can only get time to visit your practice during the early morning hours or after 5 pm. Therefore, ensuring your scheduling system is flexible enough to accommodate all patients is key.
Owning a family dental practice requires you to gain dentistry skills and become a business person. The good thing is that this industry has a failure rate below 1%, according to the DentalEconomics website. Therefore, if you're ready to take your dental career to the next level by opening your own practice, follow the above tips and match on confidently.